Fresco School offers personally tailored, style-independent fresco painting curriculum since 1996.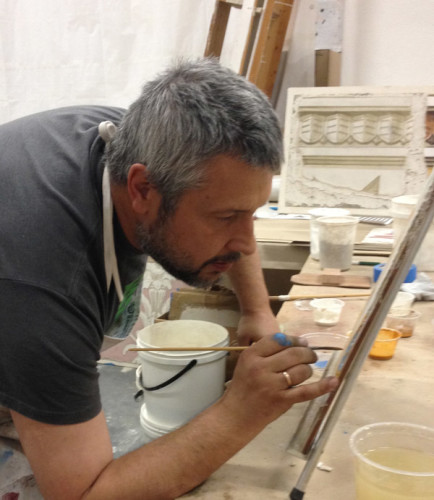 Fresco School – How it works.
"Fresco is a rigorous discipline with little margin for error, that requires you to leave your ego at the door, roll up your sleeves and dig in for the duration. Over the years, iLia has developed a method of teaching the principles of fresco in such a way that it does not infringe on personal style. iLia's instruction is effective in transmitting not only the technical aspects, but also the proper attitude of respect toward the medium."
Ioana B. Iconographer.
"I attended the LA fresco workshop with iLia. Eager to learn fresco with no prior knowledge of the history or process, iLia had a tall order to fill. And what a job of filling that order he did.
Karen B. Muralist.
"Life begins at the edge of your comfort zone" is a phrase from the "Conversation with God" books. As an oil painter of 24 years experience, I am comfortable using a layered oil painting technique that I developed over the years. My recent fresco class with Ilia and Ian took me out of my comfort zone in oils and thrust me into the uncomfortable realm of a new medium.
Ed K. Fine Artist
You met us at our Fresco Seminar or a Fresco Demo, have attended our Introduction to Fresco Workshop or simply found Fresco School searching online and want to know details on how it works?
We just published a detailed guide; Fresco School – How Fresco School Method Works?