NEW FRESCO PROJECT
We have started the Project Mexico Fresco at the "Project Mexico and St. Innocent Orphanage".
(www.ProjectMexico.org)
Please Contribute – Make a Donation!

The size:
Interior Wall Surface ~ 2670 sq. ft
Exterior Wall Surface ~ 1660 sq.ft.
Altar Area Ceiling ~ 750 sq. ft.
It is estimated – that over 1500 gallons of lime will be used.
Entire wall surface Interior and Exterior and Altar Ceiling area will be frescoed. Currently designing Outside Altar Wall (about 42 X 15 feet).
What is planned:
Onsite Fresco Workshops – all elements of creation from wall prep to painting and
Egg tempera Icon painting workshops.
– Wall Building
– Plaster
– Concept Developing
– Cartoon
– Variant Studies
– Orthodox Iconography
– Fresco Painting
– Egg Tempera
Ongoing apprentice opportunities and participation in all stages of works.
Online tutoring and Access to work documents and inside records progress reports and visual documentation (subscription based)
Project is open to Fresco School Members ONLY
http://frescoschool.net/fresco-school-membership/
Current Fresco Workshop and Apprenticeship Opportunities.
#frescoschool #frescotechnique #frescopainting #buonfresco #fresco #iconography #byzantine #projectmexicofresco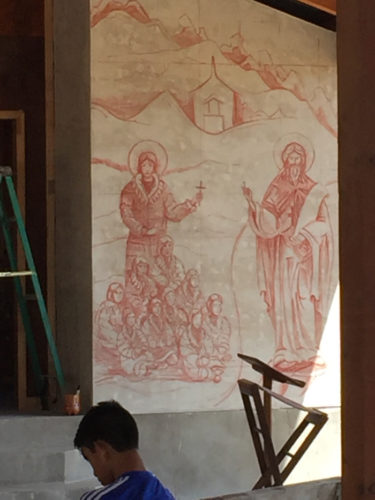 Sinopia for St Innocent & St. Jacob Nesvetov Fresco and St Herman & St. Peter The Aleut Fresco (the first two walls).