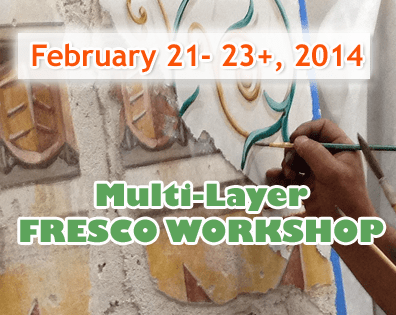 Join our new Roman and Renaissance fresco workshop on February 21-22-23+.
This specially developed professional workshop gives you practical insights into Roman and Renaissance methods of fresco application. Learn why renaissance artists had to change plaster compositions and practice both methods.
A 3-day, extended version of a  2-day Roman Fresco workshop at the Getty Villa and Multi Layer Fresco 2-day professional class developed for International Decorative Artisans League.
Now with the option to get an extra day (Optional Day 4) to paint another fresco!
You will learn about and practice:
Roman style plaster and Renaissance style plaster
Fresco Cartoon and learn to transfer your design onto the plaster using Roman and Renaissance methods.
Fresco Pigments and fresco paint preparation for Roman and Renaissance painting methods
You will complete 16X16 inch multi-layer fresco (2 painting layers).
Workshop dates and hours:
Friday, February 21 – 3:30PM to 7:30PM Saturday, February 22 – 10:30AM to 7:30PM Sunday, February 23 – 10:30AM – 2:30PM
Optional Day 4 – Monday, February 24 – 10:30AM – 4:30PM
Workshop location:
Fresco School 155 W Washington Blvd, G6 Los Angeles, CA 90015
Tuition includes:
BFF DVD Video Tutorials Set (5 Volumes) – if you already own a set – call us for a coupon code.
Use of Tools
Materials
Buy Now or call (310) 591-8028 to make a payment. only 2 seats left
---
————–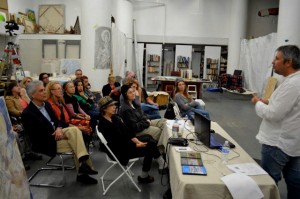 The Fresco School
Established in 1996 in Los Angeles by fresco artist iLia Anossov (fresco), formerly known as "Nationwide Fresco Painting Workshop Program". Hundreds of students have attended our workshops enrolling from US, Canada, Europe. Fresco School is the only Art School that offers ongoing fresco curriculum throughout the calendar year. Our buon fresco programs have traveled to many US cities.