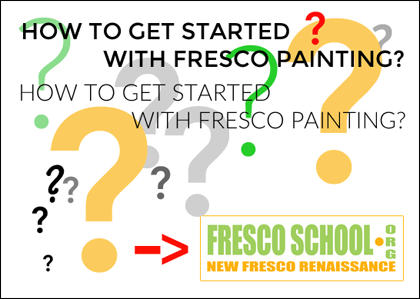 This guide will answer the question about how to get started with fresco painting in a fast and easy way.
First step is to get organized and ready – You will be dealing with fresco plaster, drawing (cartoon), natural and lime stable synthetic pigments selection, fresco paint preparation and actual painting.
1. Designate and Set Up the "Plaster Area":

Everything, except the plaster can be done simultaneously with other mediums within your existing studio. I little adjustment, rearrangement of the few things and you are good to go. Plaster is the only part that needs "special accommodations", but do not worry, most of us already have some sort of an area in the garage or a garden shed or even a section of the studio that can be easily adapted to accommodate for sifting of the sand, mixing of the plaster as well as for the light plastering and to store some related tools. Mixing and plastering itself can be done in the drive way or in you back yard if your garage is full. An 8ft x 8ft area is sufficient, and it is only needed for a couple of days per month or every other week. I usually mix just enough plaster for me to use in a week or two. Properly mixed and cared for plaster can be kept for quite a long period of time, however I prefer to use up all of my plaster within a week or two. (don't confuse with Lime Putty (slaked putty lime) – a main plaster ingredient that can be stored indefinitely, the longer it is aged the better it becomes).
2. Get missing tools and materials:
You will be needing some basic fresco plastering tools, here is the short list:
8X3 steel trowel
6X2 steel margin trowel
large scoop hawk
square/leaf ornamental tool
notched scratcher trowel
wooden "fresco float"
Most of them are the common tools that you can find in the local hardware store, or look them up at www.FrescoShop.com
The following video illustrates basic tools and materials for fresco painting:
The main ingredient of the fresco plaster – high calcium slaked lime putty (putty lime) may appear costly especially for the first steps. The following video illustrates how you can prepare some inexpensive "practice lime putty" from the Type S Hydrated Lime sold in most building supply stores. When ready you can get a high quality aged fresco lime putty from www.FrescoShop.com
You will need lime stable natural pigments and tools to prepare fresco paints, here is the short list:
glass muller (can be substituted by square or round granite block, about 4-5″ diameter and 2″ thick)
Grinding glass
palette knives
bundo knives (japan scrapers)
The following video illustrates tools and equipment for making fresco paints
This is the base list of fresco pigments, you can have as many pigments of different shades as you want and/or need for different frescoes, just keep in mind that you always need to simplify your palette for efficiency.
YELLOW OCHRE – (clay, ferric oxides)
RAW SIENNA – (clay, ferric oxides)
BURNT SIENNA – (clay, ferric oxides)
WHITE EARTH – (clay, ferric oxides)
VERDACCIO – (clay, ferric oxides)
RAW UMBER – (clay, ferric oxides, manganese oxides)
BURNT UMBER – (clay, ferric oxides, manganese oxides)
CHROMIUM OXIDE GREEN – (hydrated chromium oxide, eskolaite)
RED IRON OXIDE – (iron oxide, hematite)
VIOLET IRON OXIDE – (iron oxide, hematite)
(double silicate of aluminum and sodium and sulfates, precious stone Lapis Lazuli)
BIANCO DI SAN GIOVANNI (lime white)
You can purchase this Basic Pigment set as well as Premium Fresco Painting brushes at www.FrescoShop.com
3. Subscribe to the Fresco School's Newsletter:
Join this mailing list for the Open Studio Events, Artists at Work Fresco Painting Demos, Events and Art Fares and "No Prerequisite (BFF DVD Tutorials) Fresco Workshops" that we conduct time to time as well as free tips and guidance in your exploration of the Medium of Fresco.

ALTERNATIVELY: The easiest and the fastest way to get started with fresco painting and progress faster is to get our Buon Fresco Painting Foundations Tutorial DVD Set. (http://www.FrescoVideos.com)
Watching the videos included on 5 DVDs and exploring charts, diagrams, lecture notes, and narrated real-time demos should take you about 12 hours. After watching, make a list of questions and call me for a FREE 45 min consultation about the next steps (you will receive the number to call after the purchase).