Fresco School is offering a new fresco workshop in December which will conclude an exciting and eventful 2013!
A 3-day, extended version of a sold-out 2-day Roman Fresco workshop at the Getty Villa and Multi Layer Fresco 2-day professional class developed for International Decorative Artisans League and taught by iLia Anossov (fresco) in Indianapolis this October.
This unique workshop is for all levels, but with professional flavor. Our mandatory class prerequisite – Buon Fresco Foundations Video Tutorials Set is included in the cost of the class.
What does that mean?
You do not need to take notes just focus on the hands on action! (if you have our videos just let us know and we will prorate the tuition fee accordingly).
You will learn about and practice:
Roman style plaster and Renaissance style plaster
Fresco Cartoon and learn to transfer your design onto the plaster using Roman and Renaissance methods.
Fresco Pigments and fresco paint preparation for Roman and Renaissance painting methods
You will complete 16X16 inch multi-layer fresco (2 painting layers).
Several variants of the reference images and cartoons pre-formatted for the class such as the one above, will be available during the class or pick a detail from our cartoons scattered around the studio 🙂
In celebration of the great 2013 and looking forward to the new year this class is offered at the fraction of its standard cost of $1200 without the BFF DVD Set – this time only $799 including BFF DVD Set.  If you have our videos just let us know and we will prorate the tuition fee accordingly.

Workshop dates and hours:
Friday, December 27 – 3:30PM to 7:30PM
Saturday, December 28 – 10:30AM to 7:30PM
Sunday, December 29 – 10:30AM – 2:30PM
Workshop location:
Fresco School 155 W Washington Blvd, G6 Los Angeles, CA 90015
---
---
or call (310) 591-8028 to make a payment
Small recoup of 2013:
Full release of Buon Fresco Foundations Video Tutorials (www.FrescoVideos.com)
5 volumes a result of 5 years of work and 17 years of teaching.
Fresco Painting program for the Getty Institute currently being taught at the Getty Villa
An all new Fresco School OnLine Apprentice Program is set to pre-launch on the last week of December at the dedicated website (www.FrescoSchool.net).
New curriculum for the Fresco School is developed, limited enrollment opens after the holidays as the website (www.FrescoSchool.org) update is released.
A large exterior fresco, part of the Space Fresco project (www.SpaceFresco.org) is in the works and students will be able to study through participation. We keep our classes small and students involved, space is limited!
Last but not least we are rolling out the beta version for our own Financial Aid program.
Join us for the final workshop of 2013 and get "fresco ready" for 2014!
Not sure what to expect as a result? Click here to get the idea!
————–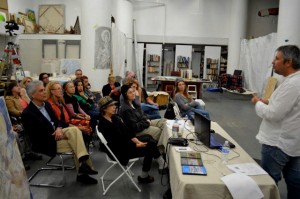 The Fresco School
Established in 1992 in Los Angeles by fresco artist iLia Anossov (fresco), formerly known as "Nationwide Fresco Painting Workshop Program". Hundreds of students have attended our workshops enrolling from US, Canada, Europe. Fresco School is the only Art School that offers ongoing fresco curriculum throughout the calendar year. Our buon fresco programs have traveled to many US cities.