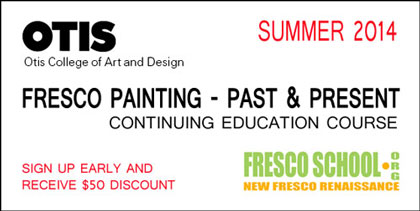 This Summer Semester join iLia Anossov (fresco) for his exciting Fresco Program at Otis College of Art and Design.
Students learn traditional techniques to produce fresco paintings on panel in a contemporary context. During this studio-based course, participants create fresco panels using buon fresco techniques. Buon fresco is a method of painting, which involves the application of pigments, finely ground in water or limewater, to a freshly plastered wall or panel. Students are shown methods of transferring designs to the fresco panel.
The choice of appropriate 'dry pigment' and its preparation are discussed, along with other technical and artistic considerations, to develop a working knowledge of the technique. Each student completes over four (TBD) fresco study tiles and panels. In addition Mezzo and Secco fresco methods and restoration and conservation techniques are discussed during the class. In mezzo fresco water based pigment is applied over semi-cured lime plaster ground. In fresco secco water-based pigment with an addition of a binder, is applied over fully cured plaster ground.
View enrollment and further details at the Otis College of Art and Design website