Fresco painting workshop at the 2013 IDAL Convention in Indianapolis was a big challenge for the students. Never working with the medium of fresco each had to complete a multi layer fresco using two different plaster compositions. First was painting on a Renaissance plaster (intonaco) – an absorbent and fairly forgiving 8 parts sand 5 parts lime mixture. However learning the transparent, layered method of painting starting with verdaccio under-painting was very different from an opaque tempera-like method that is mainly used with contemporary acrylic paints was a new approach to the students. That was followed with a rather difficult to paint on, dense and tightly polished Roman (marmorino) plaster.
In addition there was only one and 1/2 days to grasp the concept of painting on wet plaster and complete the task usually offered in my advanced workshops. I was counting a great deal on the professionalism of the students, but it was the support and encouragement from Julie Stonehouse, IDAL Educational Chair that made me go through with it. I am glad I did!
There was an unexpected technical challenge for me as well. The air-conditioned classroom was "as dry as dry gets", plaster instantly "grabbed" the tile and set. That was happening so fast that it was close to impossible to spread plaster to a smooth surface. However, despite my worry of that also affecting open painting time; after we shut down the air, plaster still gave us plenty of time to paint. After 3 hours of painting, when everyone was done, there was still at least 1 hour or more of "painting life" left in the plaster!
Everyone in class not only proved me right to expect professional atmosphere and focused but exceeded my expectations with their results. That was truly a great class which inspired me to offer this challenging format in the future. Gladly we did not have to take notes – everyone got a set of Buon Fresco Painting Foundations Video Tutorials which has every step organized in sequential order to refer back to.
————–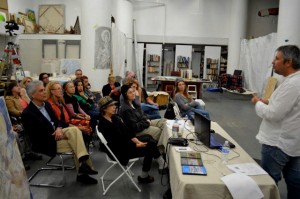 The Fresco School
Established in 1992 in Los Angeles by fresco artist iLia Anossov (fresco), formerly known as "Nationwide Fresco Painting Workshop Program". Hundreds of students have attended our workshops enrolling from US, Canada, Europe. Fresco School is the only Art School that offers ongoing fresco curriculum throughout the calendar year. Our buon fresco programs have traveled to many US cities.