If you are an Architect, Designer, Artist, Contractor or the Patron looking for the technical consultations on fresco painting or need an expert to curate technical part of the fresco project; I will consult you on every step of your project and will make sure you are prepared and ready to face and overcome all of the challenges!
Over the years I have painted, curated or advised on over 24,000 sq. feed of the large scale frescoes and counting (for the reference: Sistine Chapel ceiling fresco is 6,200 sq. feet).
The largest fresco that I have completed, the Malibu Fresco, is over 3,600 sq. feet.
Testimonials:
Ioana Belcea – Iconographer, Seton High School Chapel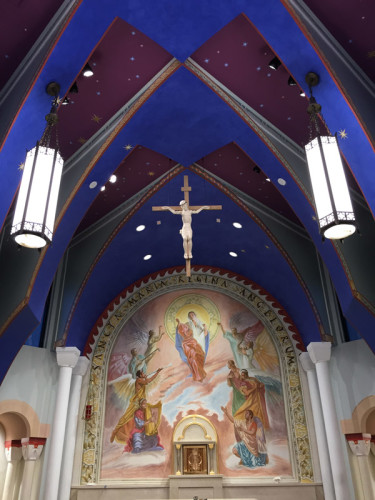 As a professional artist who welcomes challenges and seemingly impossible tasks, I was fortunate to meet iLia Anossov, founder and director of the Fresco School, when I embarked on a project that included two large frescos in a new chapel in Virginia. I had never done fresco before and knew I needed a master to teach me.
A once flourishing and much sought after art form, the fresco is making a slow comeback due to the untiring efforts of its handful of champions here and abroad. Ilia is one of them. Simply put, iLia loves fresco. iLia loves fresco and is intimately familiar with it.
The one week intensive I took with him was tough, exasperating, and exhilarating. Fresco is a rigorous discipline with little margin for error, that requires you to leave your ego at the door, roll up your sleeves and dig in for the duration. Over the years, iLia has developed a method of teaching the principles of fresco in such a way that it does not infringe on personal style. iLia's instruction is effective in transmitting not only the technical aspects, but also the proper attitude of respect toward the medium.
Six months later, as I faced the 20 feet wall feeling smaller than a grain of sand under its towering size and the looming shadow of the Old Masters, I knew I could not do it alone. I called iLia and invited him to come in on the project as a technical consultant. He came down to Virginia for two invaluable weeks.
Instruction in a studio setting cannot replace on site training. The requirements and preparation for putting up a fresco on a wall are not the same as those for easel fresco painting. iLia helped me understand what these requirements are and helped me organize the work for maximum efficiency. After I completed the design, sample fresco, cartoon and tracings of the first decorative patterns, he worked with me side by side transferring the drawing and completing the first couple of giornattas.
By the time he left, my confidence had been greatly restored and I was ready to tackle the main body of the fresco on my own. Under the vigilant eye of master plasterer Ian Hardwick, I started applying what iLia had taught me. I called iLia many times when I encountered technical difficulties and he coached me through some moments of sheer panic at 11pm after ten hours of continuous painting when only sheer will power, stubborn refusal to be beaten by a plaster wall, and his calm presence at the other end of the line kept me going.
After a marathon run of six weeks straight working eighteen hours a day, Ian and I finished the fresco. With iLia's help, I measured myself day after day against a formidable opponent, a 20 feet wall and a patch of capricious wet plaster, and allowed myself to be tamed by it.
I look forward to my next fresco this summer, the back wall of the same chapel, and sharing my newfound love for fresco with Master iLia Anossov again.
Ioana Belcea, Iconographer
Mike Nichols – Associate Professor of Art, WKU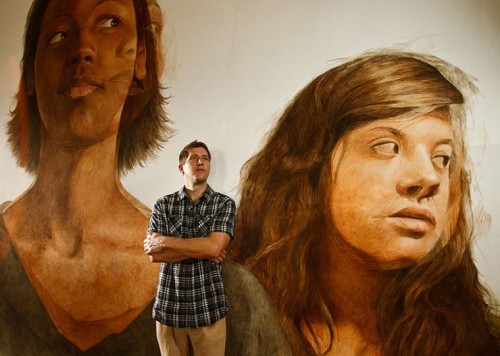 During the spring of 2010, my students and I embarked on large-scale fresco adventure that included building a 300 square foot buon fresco mural on the campus of WKU. Prior to this massive undertaking, I had some experience making smaller frescoes using knowledge I gained from a week-long workshop at the Fresco School under the instruction of iLia Anossov.
Working large-scale for the first time made for an exciting learning opportunity, but also created some unique technical problems whose solutions were crucial to the success of our project. There is absolutely no substitute for experience and when challenges arose, such as unexpected issues with our painting surface, I was relieved to have consultation from iLia Anossov. He was always available to address my questions and concerns. iLia's expertise in buon fresco includes decades of fresco experience, knowledge, and an oeuvre containing numerous large-scale murals, all of which enabled him to provide definitive solutions for each of the problems my project encountered along the way.
I am very grateful for iLia's help on my fresco project. I highly recommend his consultation services to anyone planning their own fresco adventure. His enthusiasm for the technique of buon fresco ensures that your project's success is his success.
Michael Nichols, Associate Professor, Art, WKU